Cimatron Die is a single, integrated CAD/CAM software solution dedicated to die making—from quoting, to design, to manufacturing Deliver high-quality dies of any complexity and size in record time.
Data Import
Import your customer data and start working within seconds:
Start working as soon as you get your customer's part data. Heal and stitch data or work with non-stitched models and poor-quality imported data.
Quickly and reliably import your customer's part data with automatic data validation and highly-accurate conversion from all standard formats, including IGES, STEP, VDA, Parasolid (including binary), SAT (ACIS), STL, and SAB.
Take advantage of native read/write options for popular CAD systems, including Autodesk® AutoCAD®, Autodesk® Inventor®, CATIA®, PTC® Creo®, Siemens® NX™, Siemens Solid Edge®, and SOLIDWORKS®.
Import relevant product manufacturing information (PMI) from several proprietary formats.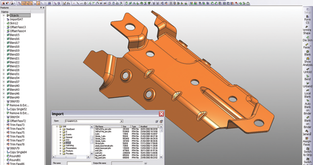 Quoting
Win more business with quick and accurate cost estimates:
Produce accurate cost estimates with the DieQuote Generator, which automatically calculates a price for quoting using your CAD data and manufacturing information.
Calculate blanks in record time using the industry's fastest blank design capabilities.
Figure out material requirements and use in minutes rather than hours with efficient nesting that determines the:

Number of progressions (stations)
Progression distance (pitch)
Strip width
Blank location and angle
Carrier shape and position.

Get a clear understanding of part formability and job complexity using built-in finite element analysis.
Clearly visualize and analyze engineering changes for accurate cost estimates.
Print ready-to-send, professional-looking quotes that include embedded screenshots of preliminary designs.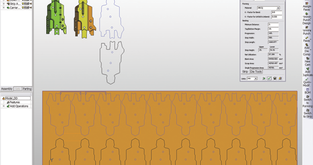 Blank Design and Forming
Create and edit forming shapes quickly and easily:
Perform automated blank calculation or user-controlled flattening on the entire part or specific sections of the part with built-in consideration for the type of sheet metal material.
Work in an intuitive environment to try different forming shape options. Select your preferred forming shapes to compose your strip or create transfer stations.
Eliminate hours of manual work using Auto Blank on Binder to unfold freeform shapes onto a 3D geometry.
Use special geometric tools for bending, unbending, unfolding, twisting, flanging, and other forming operations.
Work the way that best fits your needs with powerful solid, surface, and wireframe functions.
Use built-in analysis tools—such as spring-back analysis, safety zone analysis, curvature maps, draft angle analysis, and many others—to ensure any integrity issues are addressed at an early design stage.
Reduce the need for shop floor trial and error with tools that imitate the actual elements used in the shaping of a part such as pressure pad, draw bead, blank holder force, and constrained face.
Ensure optimal use of the raw material with a nesting tool for transfer dies.
Save time and eliminate errors by automatically transferring the information created in the forming phase to the die tool design environment.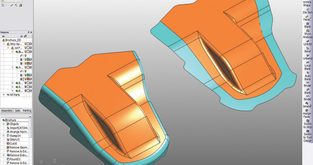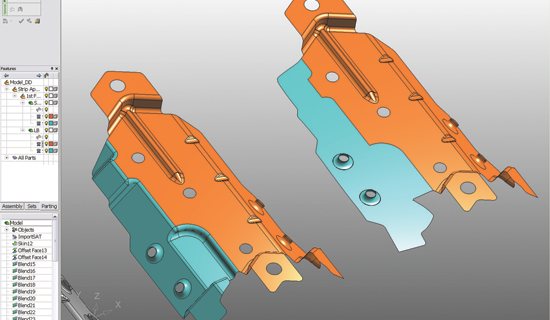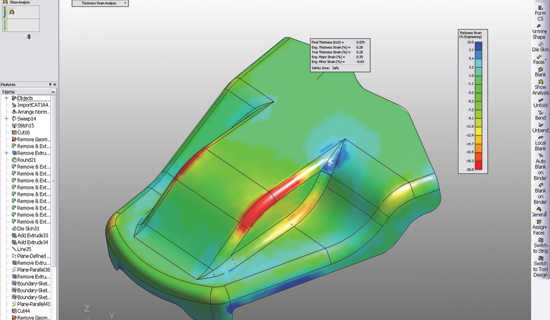 Die Layout
Increase productivity with a dedicated strip design environment:
Benefit from a simplified environment that streamlines the layout design of both transfer and progressive dies.
Enjoy complete flexibility to determine the number of progressions (stations), progression distance (pitch), strip width, blank location, blank angle, distance between rows, and other nesting parameters.
Make and view changes on the fly with real-time simulation and validation.
Create and relocate trimming punches, carriers, and pilots at incredible speed while visualizing the impact of each cut operation on the remaining strip.
Pick and drop your selected freeform shape from the shape-forming area into the strip to achieve your desired strip layout.
Enable several designers to work concurrently on one project in a die tool design environment where they can create several forming shapes or stations on the tool.
If you are used to working in 2D, experience a similar 2D workflow with additional productivity-enhancing features in the Cimatron strip layout design environment,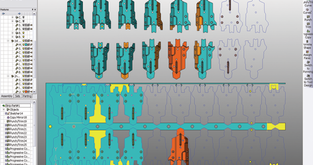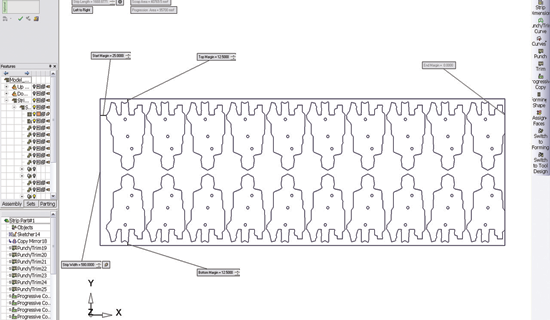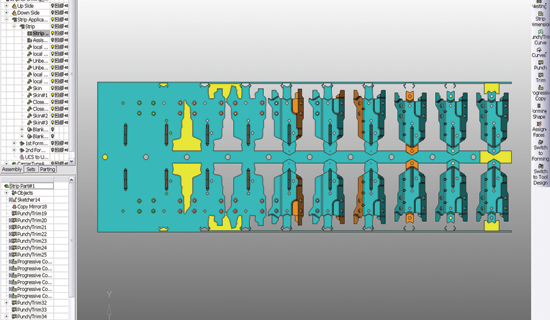 Die Set Design
Load an entire die set that is fully adapted to the requirements of your current project in seconds:
Use a ready-made die set you have built, pre-fitted with plates, guiding components, and fasteners.
Include user-defined and commercial catalog parts in your die base and easily adjust their dimensions.
Allow the die set to adapt itself automatically to strip dimensions, if appropriate.
Easily adjust component dimensions to suit your project—at any point in the design process—using the die setup table.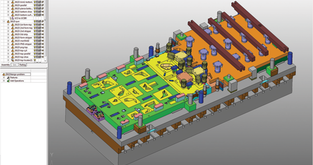 Punch/Matrix Design
Simplify and speed up punch creation with a rich selection of applicative tools and powerful modeling capabilities:
Design trimming punches by defining contours in one click; Cimatron Die automatically cuts through plates with predefined offsets to position the punch.
Use automated tools for the rapid creation of forming and bending punches and cutting objects.
Build forming punches in 3D with the Cimatron advanced hybrid solid/surfacing modeling tools that are dedicated to die making.
Choose from a wide range of trimming, pilot, and forming punches as well as matrices in commercial catalogs; Cimatron Die creates automatic cuts to accommodate the components.
Easily create wedges by applying custom shapes or manually defining their placement.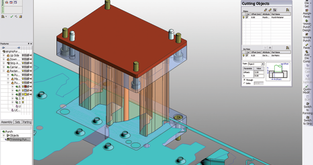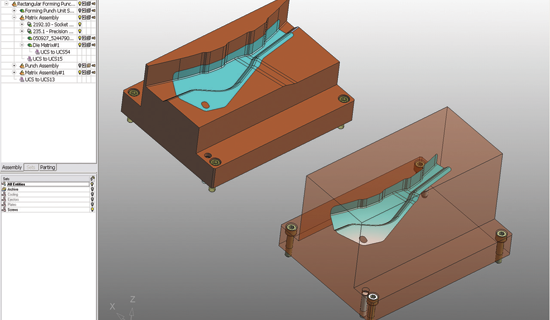 Catalog Parts
Work with a large selection of commercial catalogs:
Browse through up-to-date catalog libraries to find the right part with the right dimensions.
Automatically adapt the catalog part or sub-assembly to the main assembly's dimensions or to design details such as punch hole dimensions.
Integrate catalog parts into assemblies by automatically creating pockets in every plate the part goes through and threading the pocket where necessary.
Associate catalog parts with their drilling procedures to streamline NC programming.
Create your own personalized catalogs.
Access additional catalog parts using the Cadenas portal.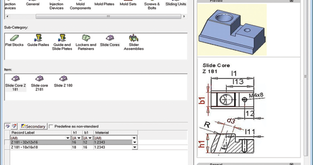 Collision Detection and Motion Analysis
Leverage the 3D environment; visualize the vertical axis throughout your design to avoid interference and other errors as you work.
Validate your design with built-in measurement, analysis, and collision detection capabilities.
Simulate tool kinematics to visualize your die tool in dynamic stages of its operation and locate collisions, which eliminates design errors.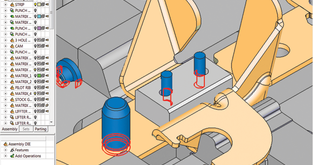 Drawing
Create and reuse drawing templates that incorporate customer specifications:
Use powerful drafting options for die drawings including the ability to create sections on open objects and broken views.
Easily add a bill of materials (BOM) and table of holes to your drawings.
Save time with automated placement of center lines, coordinate labels, and other drawing elements.
Generate drawings with all the information needed for ordering components, shop floor operators, quality assurance, and customer documentation.
Define drafting views on the fly during the modeling process, then quickly convert them into drawings.
Create and reuse templates that incorporate customer-standard drawing specifications.
Reduce the drawing file size by creating links with the original data.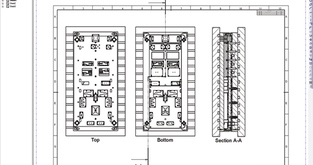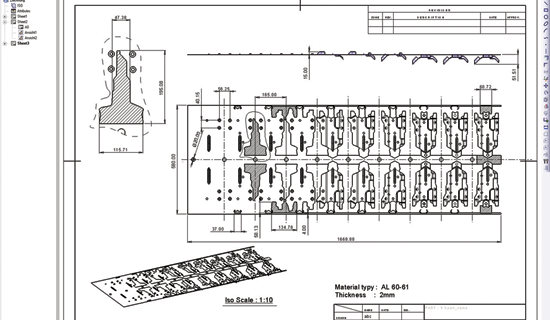 Built-In CAD Functionality
All the CAD you need for the best machining results:
Take advantage of a full hybrid system that allows you to combine wireframe, surfaces, local open solid, and solid functions as part of the NC environment.
Optimize machining by using dedicated features to add surfaces and contours, cap holes and slots, and extend surfaces as well as apply drafts and rounds.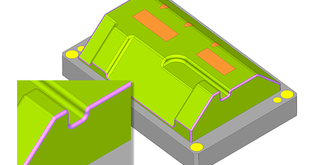 Efficient Roughing
Maximize material removal rate while prolonging tool life with efficient roughing:
Undertake quick and effective ultra-high-volume milling on 3D stock shapes with Rough VoluMill.
Ensure short machining times for any selected machining strategy with continuously-updated, multi-axis stock.
Check for tool shank and holder collisions against the auto-updated stock automatically at all stages of roughing and re-roughing operations.
Generate a high-speed milling (HSM) all-rounded toolpath with constant tool load, trochoidal milling, advanced clean between passes, efficient rough between layers, and state-of-the-art ridge removal.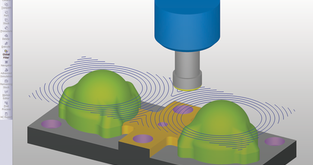 High-Quality Finishing
Achieve a superior surface quality with high-quality finishing:
Choose from a rich set of 3- to 5-axis optimized machining strategies including:

Adaptive Z layers
True spiral motions
All rounded motions
Flow-line machining
Cleanup (rest machining) and pencil
Slope-controlled finishing
Optimized CBP (clean between passes)
Unique ridges handling by zero overlap trochoidal
Prevent waterfall
Air extensions
Uniform approach and retract

Automatically adapt machining strategies to achieve a high, polish-free surface quality using built-in analysis of local slopes.
Benefit from highly-efficient machining with any cutter combination in cleanup.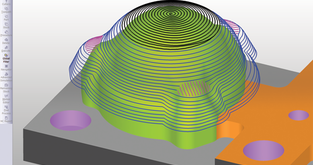 Full 5-Axis Capabilities for Die Making
Full 5-axis capabilities reduce setup time, shorten machining time, and improve surface quality:
Use a single setup for multi-side operations.
Choose from a rich selection of machining strategies and support a complete range of cutters including tapered cutters, lollipop tools, and slot mill cutters.
Support positioning and continuous milling to provide full control over the tilt and lead angles as well as gouge and collision check of the tool shank and holder against the part.
Verify all toolpaths and eliminate unnecessary tryouts with advanced post-processor-based simulation capabilities—including material removal, remaining stock, and complete machine kinematics.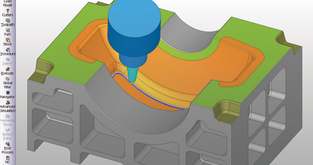 Plate Machining and Drilling
Generate efficient toolpaths for plate machining:
Achieve efficient and accurate plate machining with powerful pocket or profile milling options and full drilling capabilities.
Use flexible sequences for faster programming of hole drilling.
Save 90 percent of drill programming time by allowing the system to assign appropriate drilling sequences automatically for hundreds of holes in seconds.
Enjoy automatic transfer of hole properties assigned during the tool design phase and save time with reduced sequence management.
Check for gouges with holder collision check against the part, actual remaining stock, and clamps.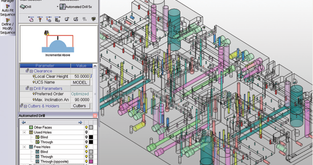 Simulation and Post-Processor Support
Machine with confidence and predict results with simulation and post-processor support:
View the cutting process and its results prior to machining with a color-coded display to help analyze the remaining material around the part.
Simulate the real machine kinematics and toolpath motion and check tool shanks and holders against the part with advanced simulation generated with the G-code. The ability to predict machine behavior enables you to correct and eliminate errors ahead of time.
Choose from a rich library of post processors for practically all 3- and 5-axis machines as well as all leading controllers.
Easily customize the state-of-the-art post-processor generator to your specific needs.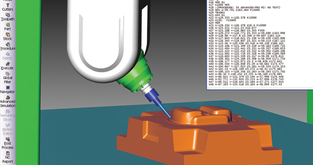 NC Setup and Tool Table Reports
Facilitate information flow between NC programmers and the shop floor:
Generate NC setup and tool table reports automatically as you post-process a program.
Customize reports for the shop floor to include company logo, machine time, machine limits, and other user-specific data and parameters.
Capture G-code output sessions for enhanced milling control and future use.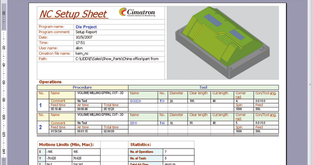 Wire EDM Programming
Quickly and easily program your wire EDM machines:
Support 2- and 4-axis wire modes.
Handle single contours in 4-axis mode with either constant or variable conic to synchronizing upper and lower profiles automatically (with a manual override option).
Ensure optimal CNC performance with a built-in database of EDM machines.
Define your own custom settings and combine multiple processes into a single template, including complete wire path simulation, with process templates for knowledge-based machining.