Officine Drag - Creative Craftsmanship
Officine Drag SRL Finds a Perfect Fit with Cimatron.
Download The Article
With the right technology, resourcefulness, and expertise, even a smaller mold-making company can help to transform their customers ideas into reality.
Officine Drag Srl (www.officinedragsrl.it) has been operating for more than two decades in the plastic mold industry, applying their creative methodology in developing tools for industrial production in diverse commodity sectors. The company aims to grow their trade while holding true to the craftsmanship that has always distinguished it from its competitors.
As Managing Director Felicetta Gabrielloni points out: "For Officine Drag, craftsmanship means attention to detail, quality of raw materials, and experimental research and development, but it also defines a flexibility and willingness to meet customer requirements. Our commitment, teamwork and careful organization has allowed us to grow positively by expanding into new markets."
A highly prized service
Based in the Marche region, between the Apennine Mountains and the Adriatic Sea, Officine Drag Srl handles all stages of the development and manufacturing process for single and multicavity molds, including gas-assisted and bi-tri color molds. In order to guarantee a quality outcome, Officine Drag also performs pre-production testing to verify the efficiency and functionality of the mold itself. If necessary, they will run mold samples or small pre-series production cycles. From their start in serving high-end homeware accessory industry, their customer base has now extended to other sectors such as packaging, building, and automotive.
"Our team is composed of young but experienced technicians, with a deep know-how and a strong skillset gained through the continuous training that the company provides; they are able to face any professional challenge. We strongly believe in the development of new technologies, and this is why we embraced the smart automation philosophy of Industry 4.0 from the very beginning. When working with the customer, the functional and aesthetic characteristics of the product are already defined, but the technical solution, combining both economic feasibility and the production goals of the mold have to be set to meet the customers expectations. We guarantee after-sales service and extraordinary punctuality in terms of project delivery. This last point is taken very seriously within the company: if we delay a delivery, we self-apply a penalty for each week of delay!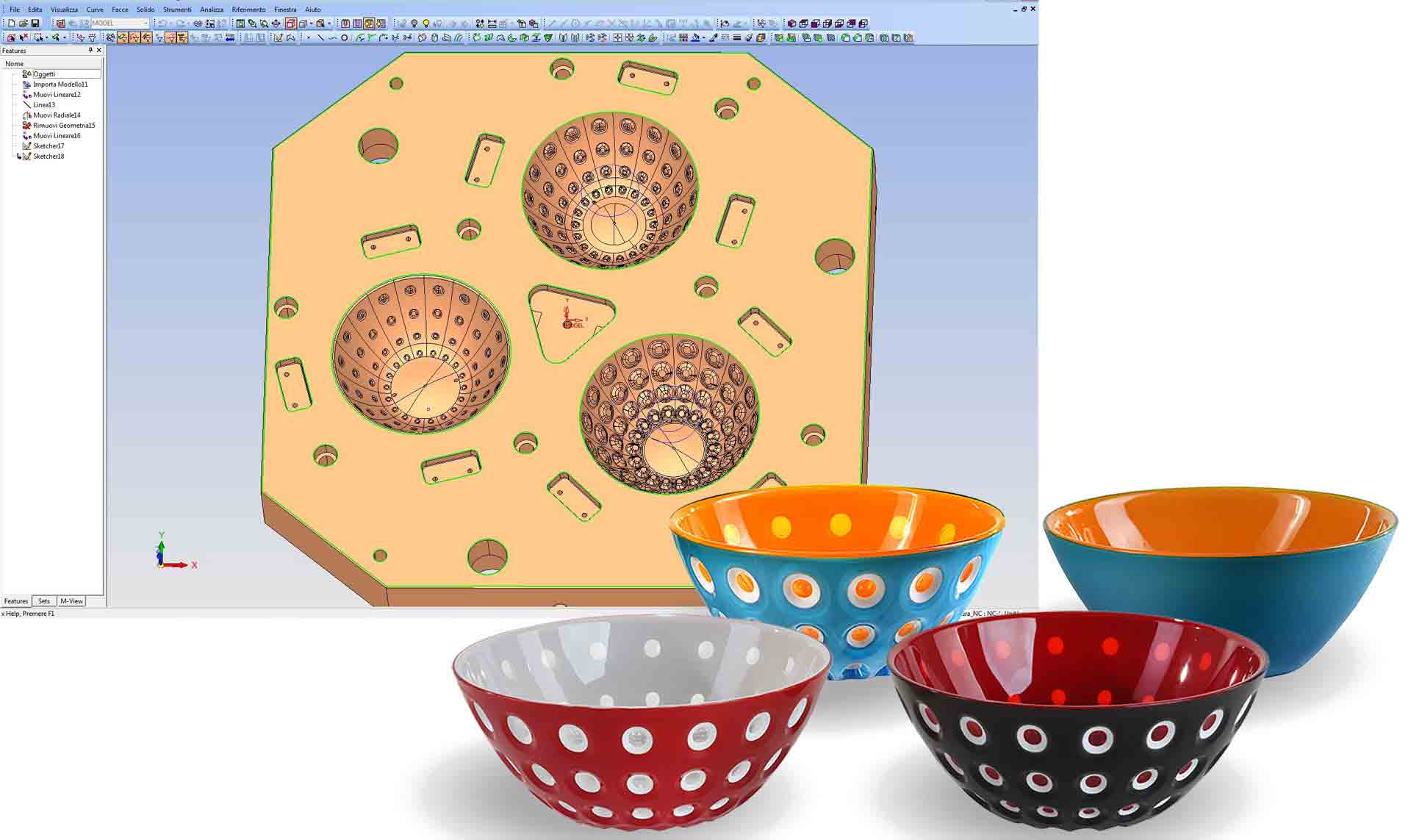 To ensure we can communicate the project status at any point, we use the Gantt project management tool to show all production activities (tasks or events) displayed against the project timeline. We share the status reports with the customer every week and send photos of the mold under construction so everyone can see the progress update. This is a much appreciated service, especially when working with clients in other countries such as Germany, Spain, and France. It generates confidence and gives our customers peace of mind."
Multi-Axis Machining
Officine Drag has a number of medium to large machine tools including a HERMLE C 650, SACHMAN TS10, REMA CONTROL LT5-25, and many others so it can handle manufacturing molds up to 8 tons. "We typically already know how to do what is asked of us, but unusual challenges are always welcome in order to offer real value to the customer. We can build different types of molds depending on the relevant technology, from thermoplastic injection to blow molding on a traditional press. Particularly complex are molds with two or three materials, such as molding plastic and rubber, which have unique constraints or rotary table tansfers.
For example, when using two materials, a nozzle injects plastic into a mold in the first cycle. The mold is then automatically rotated and a different type of plastic is injected into the mold from a second nozzle to produce the final product. In these situations we have many years of experience and always achieve a result within budget." Thus beautiful products come to life, designed more and more for technical applications. The importance of aesthetics is joined by the need for absolute precision.
Officine Drag believes strongly in investing in state of the art technology. This includes the deployment of Cimatron CAD/CAM for programming all CNC machines for drilling, 2.5 and 5-axis operations. Cimatron provides powerful analysis tools and simulation, as Export Area Manager Federico Salvatelli confirms, "Most of our CAM work is done with three-axis operations, or positional five axis (3+2). However, we also have the ability to run five axes continuously when the geometry of the mold requires it. In these cases the on-screen simulation and verification is almost mandatory to be sure that the path is safe before running the machine.
The simulation in Cimatron includes not only the actual machining, but also the entire machine kinematics, so that any potential issues with fixtures, workpiece, tool, or tool holders can be detected immediately. Once the toolpaths have been verified, we often launch unattended semi-finishing and finishing operations, with the confidence that there will be no issues on the machine."
Process Automation
High automation is in fact one of the characteristics of the Cimatron system. The intent is to give the designer or programmer the ability to process entire phases of the operation workflow by using user-defined templates that load parameters and rules from the centralized database.
This "intelligent" database can adapt over time and can be used by anyone to achieve the same results, following proven and tested company standards. By establishing plant-wide company standards, this ensures that, from user to user, job to job, you are able to produce consistent results and high-quality tooling.
Worthy of note, for example, is the accuracy of the residual stock after each roughing pass: "When using Cimatron, we noted the drastic reduction in air retract movements. These are only a few seconds per move, but when adding them up at the end of the week or at the end of the month, they equate to values that are no longer negligible, especially on machines that are a little older and do not run at especially high speeds."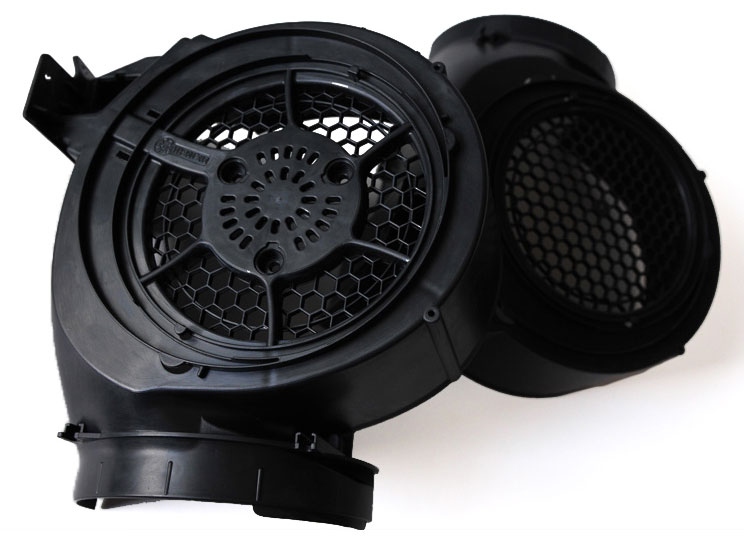 In the near future, Officine Drag is planning to implement the use of form tools such as barrel cutters. When using these new tools for finishing operations, step-overs and step-downs are very large compared to those of bull nose cutters. Typically, most machining time is spent using tools to finish surfaces that require small depths of cut and step-overs (0.05 to 0.2mm).
However, barrel tools can offer up to 8x greater depth of cut and step-over, and improved surface finish due to fewer cusps compared to traditional tooling. "We have already seen Cimatron is able to support these tools. This is a high-efficiency technology that promises to cut machining times significantly. Our plan is to adopt this type of high-performance tooling and use them on our HERMLE C 650 machining centre with the support of excellent CAM!"