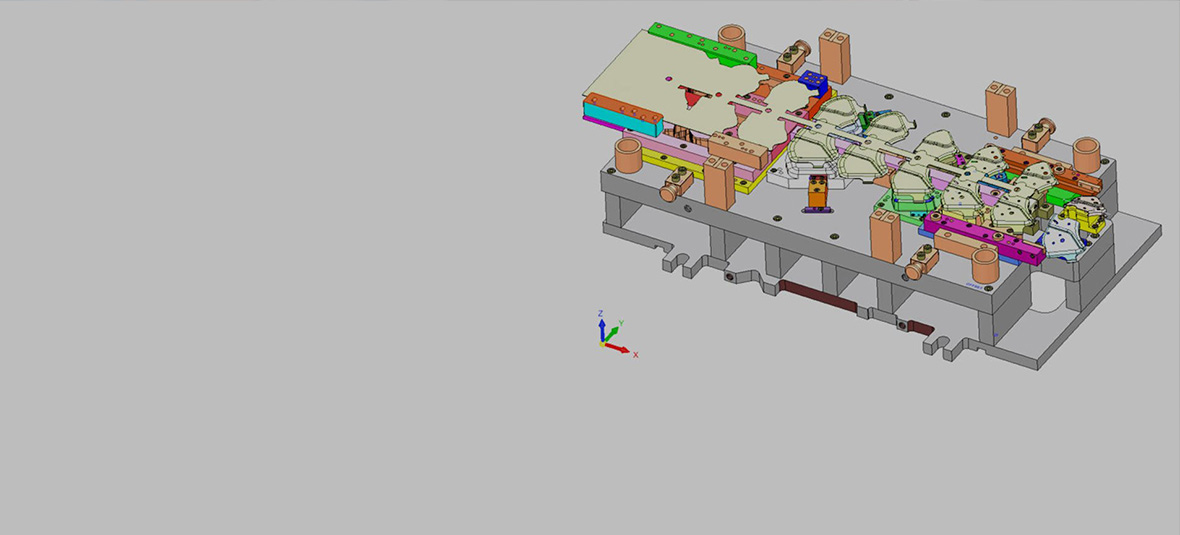 The Advanced Analysis Capabilities of Cimatron Allow Jamesway to Take on More Complex Jobs​
Industry
Stamping and molding houses, furniture, appliances, automotive
Location
Holland, MI
Website
Challenges
Delivering quality products in a timely manner even when working with imperfect part data
Utilizing resources more efficiently to grow revenues without increasing headcount
Improving communication both within the shop and with customers
Solution
Streamlining the entire process for mold, die, and CNC programming using Cimatron.
Results
Advanced analysis capabilities allow Jamesway to take on more complex jobs.
Better communication powered by visual 3D models increases efficiency and customer satisfaction.
Greater productivity and shorter delivery times have a major effect on the shop's bottom line.
Turning a small tool shop into an advantage  
Founded in 1976, Jamesway Tool and Die is a unique shop delivering both stamping and molds under one roof. Offering a wide variety of quality products for commercial, stamping and molding houses, this 20-employee shop needed to stay efficient in order to compete.  "We are a relatively small shop and still get twice the productively out," says Mark Gortsema, die designer at Jamesway Tool and Die.
Working with imperfect CAD data
Up until a few years ago, Jamesway designed stamping dies in 2D using AutoCAD. It required a lot of tedious detailing as sheets were not up-to-date and details were getting missed. That's when it was decided to switch to Cimatron 3D.
"Cimatron doesn't care if part files are solid or not," says Gortsema. "It grabs whatever information it has including non-stitched models or poor quality imported data, and stiches that data together so that we can use it. We no longer need to ask the customer for new CAD files, we can just continue to work with the data we have. That's a big deal in terms of profitability." Gortsema shares an example: "We recently received from a customer die files that were far from perfect. We didn't have to do any development work on it before cutting it, and it just worked perfectly. As a result, we were able to build this die a week and a half ahead of schedule."
More efficient, more competitive
Over the past year, Jamesway has streamlined the entire process for mold, die, and CNC programming under one umbrella. "It gives us continuity and eliminates the need to translate in and out of different CAD systems," says Gortsema. "It also allows us to be more flexible with our personnel. For example, if a mold design is going a little slow, we can help out by developing some of the detail blocks and cutting them. With multiple people working on a variety of operations simultaneously, we are able to reduce our lead times and increase our competitive advantage."
Advanced die design functionality further helps Jamesway deliver products faster. "I can't say enough about the spring back feature," adds Gortsema. "Visualizing where the spring back is coming allows you to accurately calculate your stock allowance. This feature alone is saving many days in product development."
Blank on binder is another big timesaver. Gortsema explains that this feature allows you to unfold the freeform shapes onto three-dimensional geometry with great accuracy. It supports the creation of intermediate binder blanking and surfaces and unfolds the part onto these faces. You can take warped twisted surfaces and project them onto another surface and it's going to give you quite an accurate blank layout, saving a lot of time-consuming and costly trials.
Keeping customers happy with complex parts done right
Working with Cimatron has allowed Jamesway to take on more complex jobs. "Cimatron has wonderful analysis capabilities," Gortsema adds. "We can understand potential problems that can arise throughout the job. When we see red we know we have a problem. We can run through different scenarios that allow us to adjust the die and eliminate these red areas, so that we get the part performing correctly without having to cut steel later on."
As part of the new workflow, Jamesway has added viewing stations to the shop floor, giving the tool builders a visual of the tool they're about to build before they actually put it into steel. Enhanced visualization also greatly improves communication with customers. "We can see some things that may not work out while we're developing the tools. Now we can communicate better with the customers by sending them an actual virtual layout and ask for their input in case we think we need to tweak the part a little. This reduces the back and forth with the customer and saves problems down the road."
Gortsema shares an example of a recent order for a complex small part. It was a two-out die that makes 3–4 inch parts separated with about a ¾ inch web. That was a very small and intricate part, and the forming wasn't straight – it required several small parts and cam piercing on both sides of each of the parts, plus the stock itself was relatively thick. "With Cimatron, we visualized the work in a small amount of space. It allowed us to actually see the problems so we knew right away what we had to tweak, and the strip layout was developed almost right on the money. The customer was extremely pleased with the way these parts came out," says Gortsema.